Statewide grand jury returns 32-count indictment against Aurora Police officers and Aurora Fire Rescue paramedics in the death of Elijah McClain
Felony charges include manslaughter, criminally negligent homicide, and second degree assault
Sept. 1, 2021 (DENVER)—The statewide grand jury has indicted Aurora Police officers Randy Roedema and Nathan Woodyard, former Aurora Police officer Jason Rosenblatt, and Aurora Fire Rescue paramedics Jeremy Cooper and Peter Cichuniec for their conduct during a stop on the night of Aug. 24, 2019, that resulted in Elijah McClain's death.
After the encounter with law enforcement and the paramedics, Mr. McClain was transported to the University of Colorado Medical Center. Mr. McClain was declared brain dead on Aug. 27, 2019, and removed from life support on Aug. 30, 2019.
"After we were appointed to take on this important responsibility, we took it very seriously. We have the solemn duty to prosecute this case and recognize that it will be difficult to prosecute—these types of cases always are," Attorney General Phil Weiser said. "Our goal is to seek justice for Elijah McClain, for his family and friends, and for our state. In so doing, we advance the rule of law and the commitment that everyone is accountable and equal under the law."
The defendants are indicted on the following charges: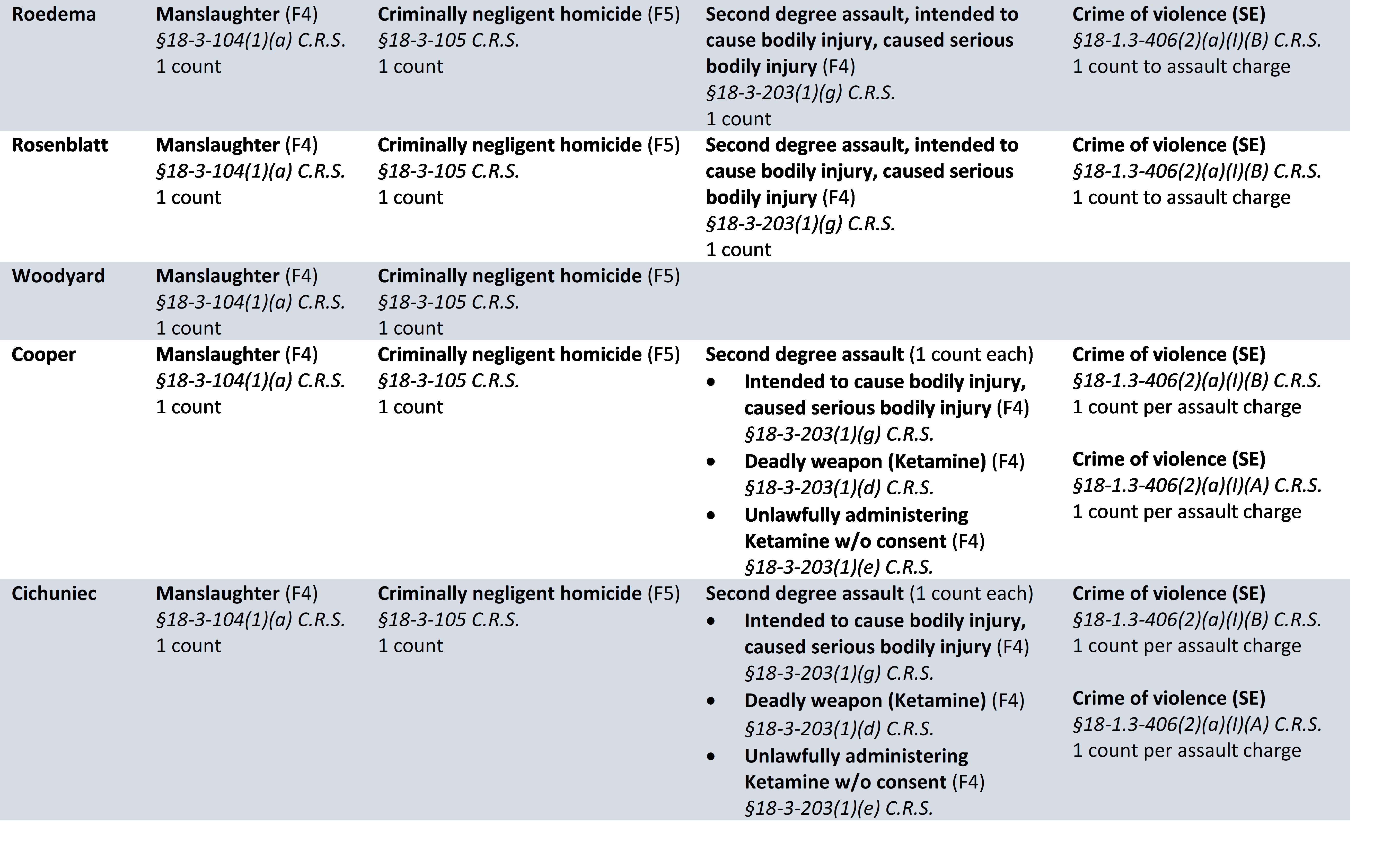 The Colorado Department of Law filed the indictment today in Adams County District Court in Brighton. The case numbers are as follows: Randy Roedema, 08/06/1982, 21CR2782; Jason Rosenblatt, 11/05/1988, 21CR2788; Nathan Woodyard, 07/14/1989, 21CR2794; Jeremy Cooper, 11/5/1974, 21CR2800; and Peter Cichuniec, 10/26/1972, 21CR2806.
Attorney General Weiser was appointed as a special prosecutor by the governor in June 2020 to investigate the death of Mr. McClain. The attorney general announced the grand jury investigation on Jan. 8, 2021.
A grand jury indictment is a formal accusation, based on a determination of probable cause, that an individual committed a crime under Colorado law. All defendants are presumed innocent until proven guilty beyond a reasonable doubt.
Click here to view the indictment.
###
Media Contact:
Lawrence Pacheco
Director of Communications
(720) 508-6553 office | (720) 245-4689 cell