NEED: Colorado Department of Regulatroy Agencies Logo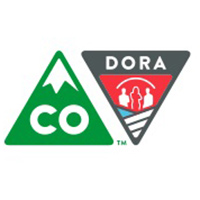 Colorado Department of Regulatory Agencies
The Colorado Department of Regulatory Agencies (DORA) includes nine separate divisions and the Executive Director's Office. DORA's divisions include over 140 boards, commissions, and advisory committees. The Division of Professions and Occupations alone regulates over 50 professions, occupations and businesses in the state totaling over 345,000 people. Click here for a listing of regulated industries and professions by DORA's Divisions
While DORA regulates most professions within Colorado, other state and local agencies have certain regulatory authority and licensing and registration requirements. Other industries and services that are not regulated by DORA can be found here.
The department has also provided some resources for businesses and those interested in starting a business which can be found here.
---
Colorado Secretary of State
The Colorado Secretary of State heads the Colorado Department of State, which is comprised of five divisions: Business Division, Licensing Division, Elections Division, Administration Division, and Information Technology Division. Click here for information on business registration and other helpful resources from the Colorado Secretary of State.
---
Colorado Small Business Development Center Network
The Colorado Small Business Development Center Network (CSBDC) provides free and confidential consulting and no – or low-cost training programs across the state of Colorado. The SBDC program is the federal government's largest and most successful management and technical assistance program for small businesses. It is a partnership between the U.S. Small Business Administration (SBA) and America's Small Business Development Center Network (ASBDC). The Colorado Office of Economic Development and International Trade is the current host of the CSBDC program. Click here for resources and information from the CSBDC.
---
Patent Assertion Fraud
Recently, some Colorado businesses have received letters demanding licensing fees for the use of patented technology.  These demand letters can be very costly for the targeted businesses, which are forced to expend time, money and other valuable resources determining how to best respond to the threat.
This issue led the Colorado General Assembly to create legislation regarding Prohibited Communication Concerning Patents (§6-12-101 – §6-12-104) that governs demand letters related to patents within the State of Colorado. Click here to learn more about Patent Assertion Fraud.
If you believe you have been victimized by patent assertion fraud, please file a report here.