Attorney General Phil Weiser has issued a consumer alert warning Colorado residents about scams related to coronavirus.
There have been reports that scammers are setting up websites to sell bogus products and using fake emails, texts, and social media posts to lure consumers into giving money and personal information. They also may be asking consumers to donate to victims, marketing fake treatments, or sending malicious email attachments.
"Scammers take advantage of natural disasters and emergencies," said Weiser. "By learning how to avoid scams related to coronavirus, we can work together to ensure no one in our state is taken in by these malicious attempts to defraud Colorado consumers during this public health emergency."
Consumer information: How to avoid scams and other helpful tips
Coronavirus scam information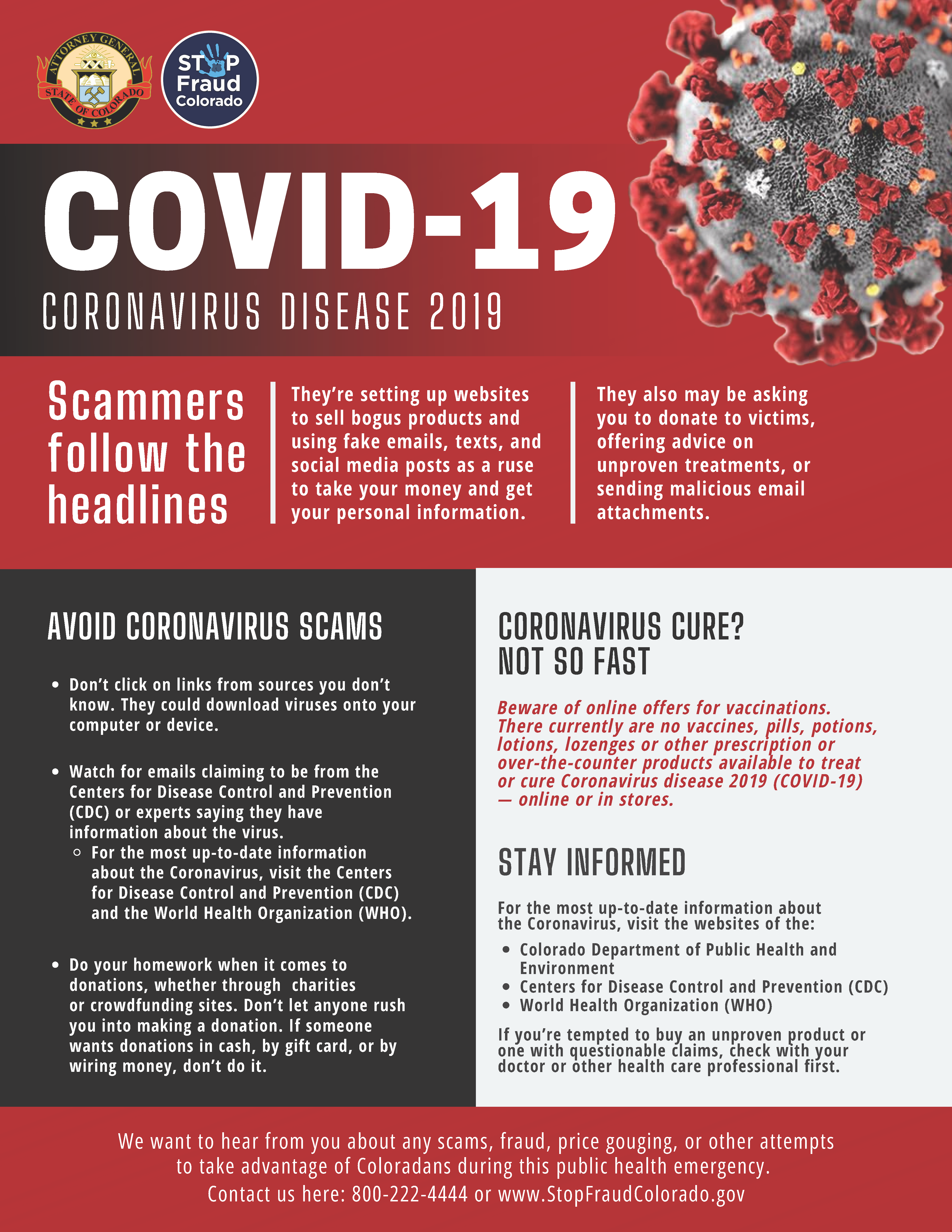 More information:
Coronavirus scams targeting older Coloradans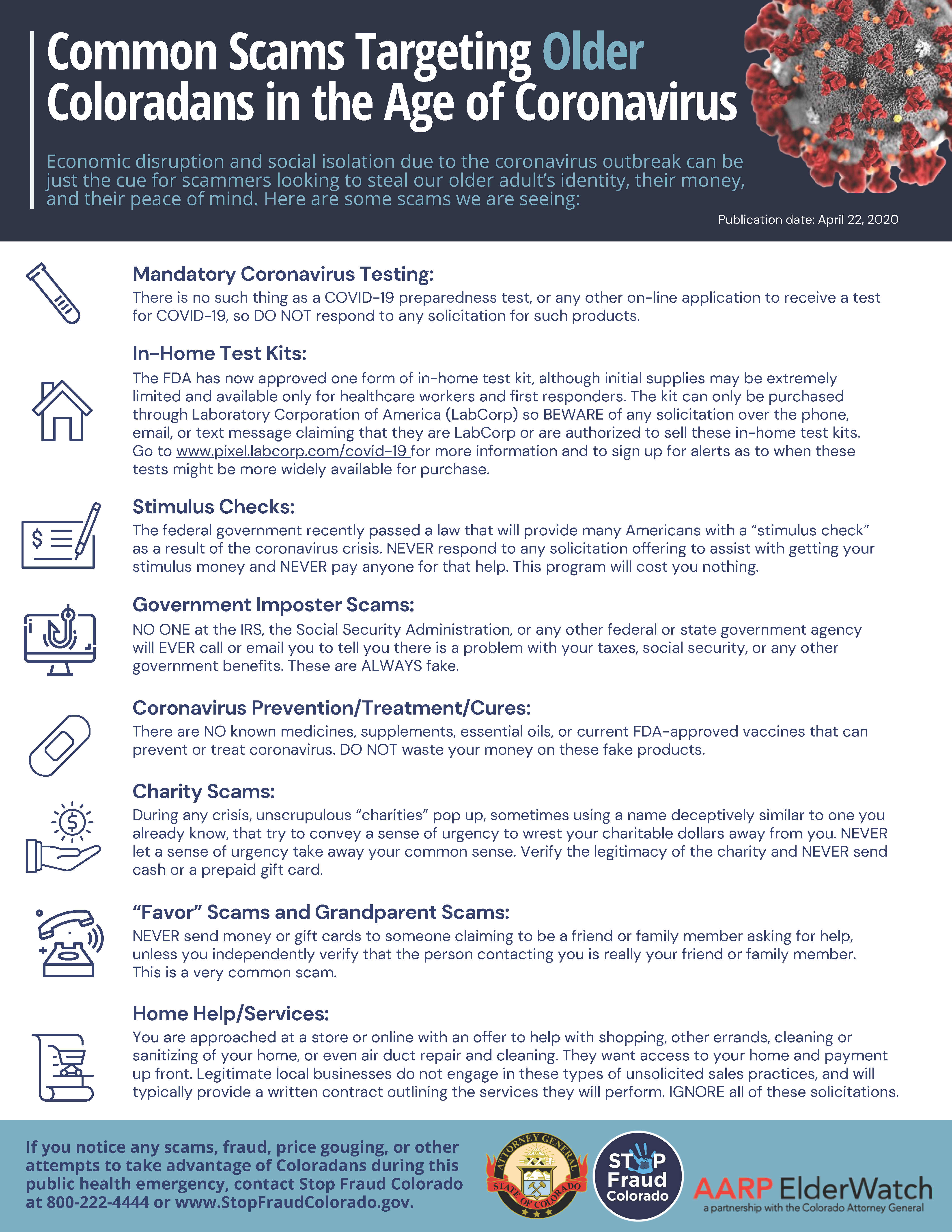 How to detect fraudulent emails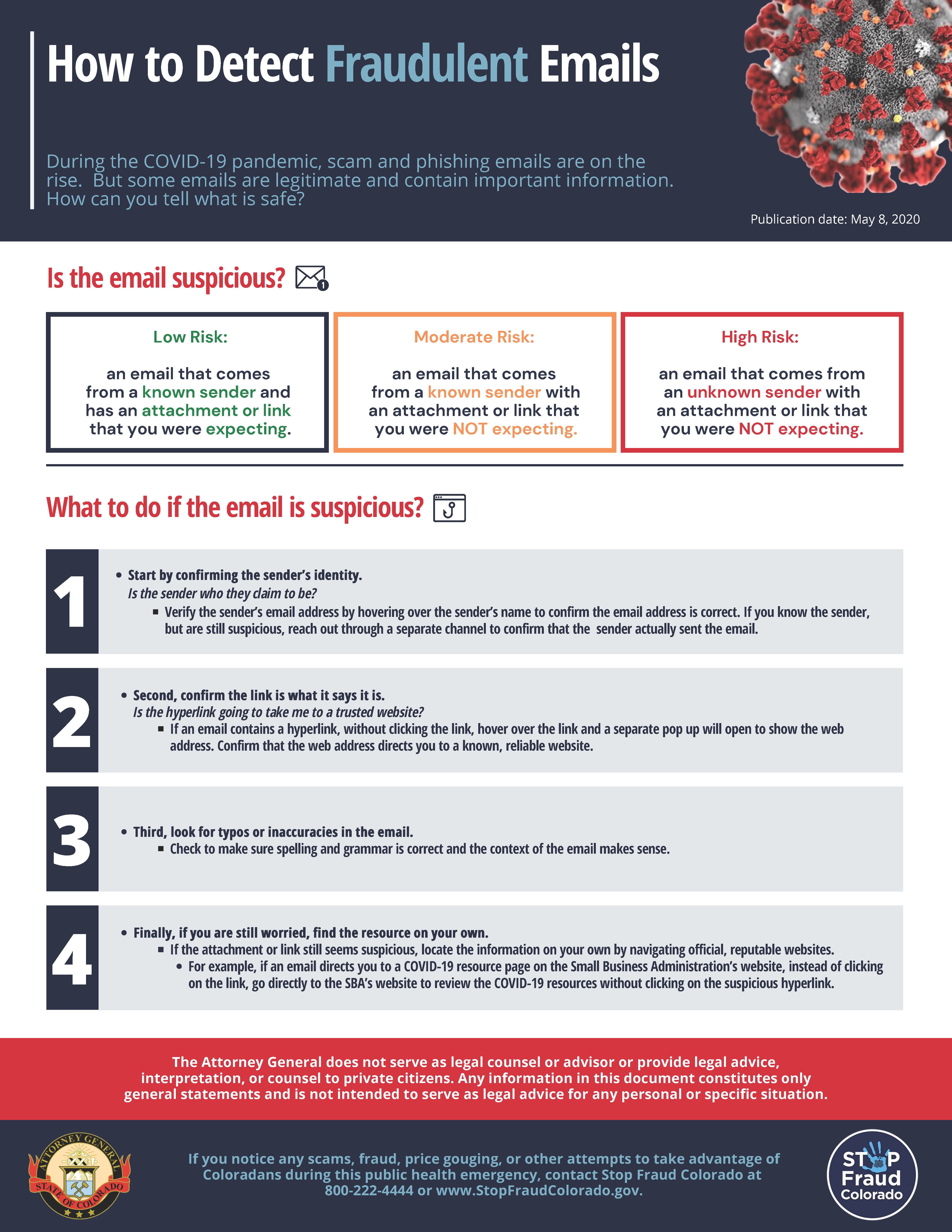 Children's online privacy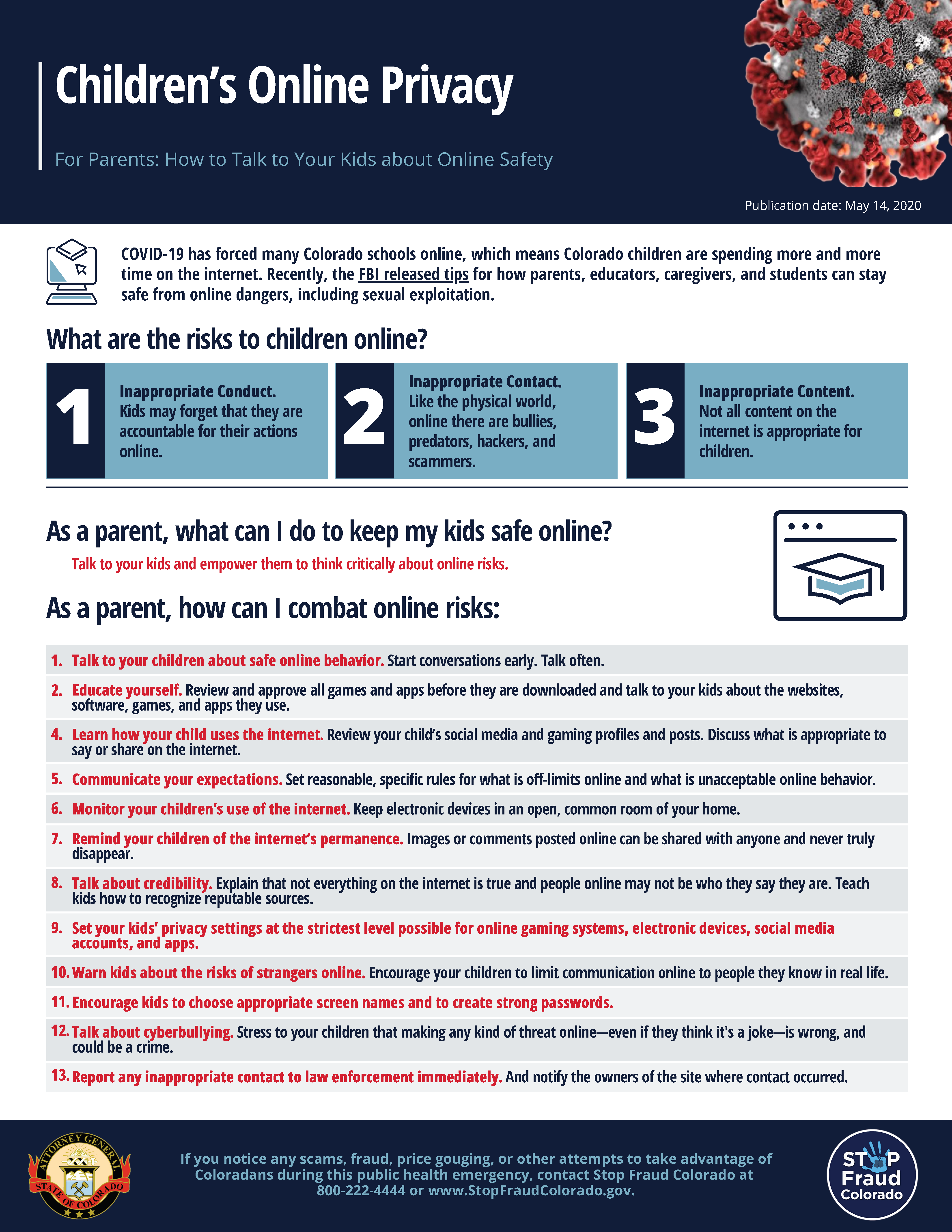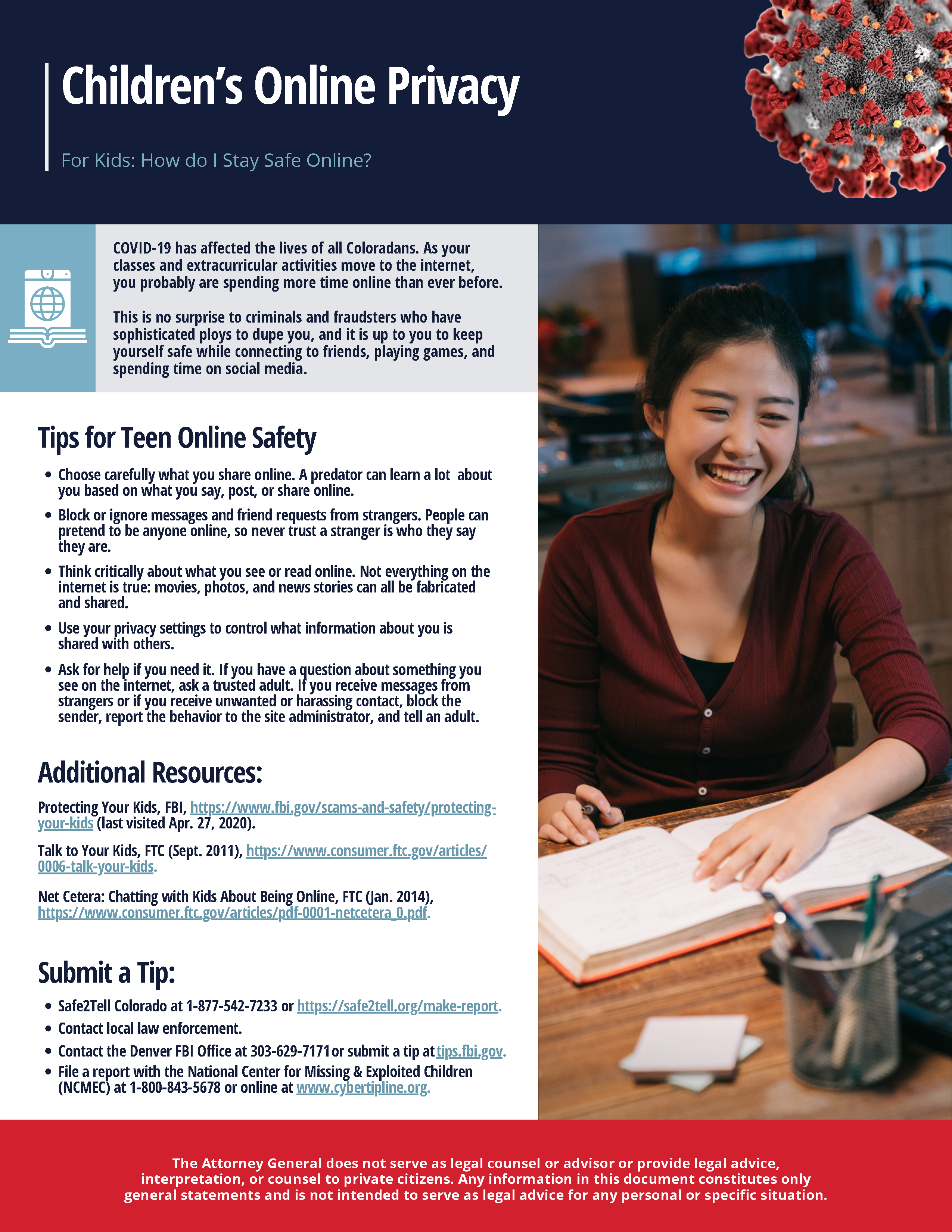 Avoiding fraud in PPE purchases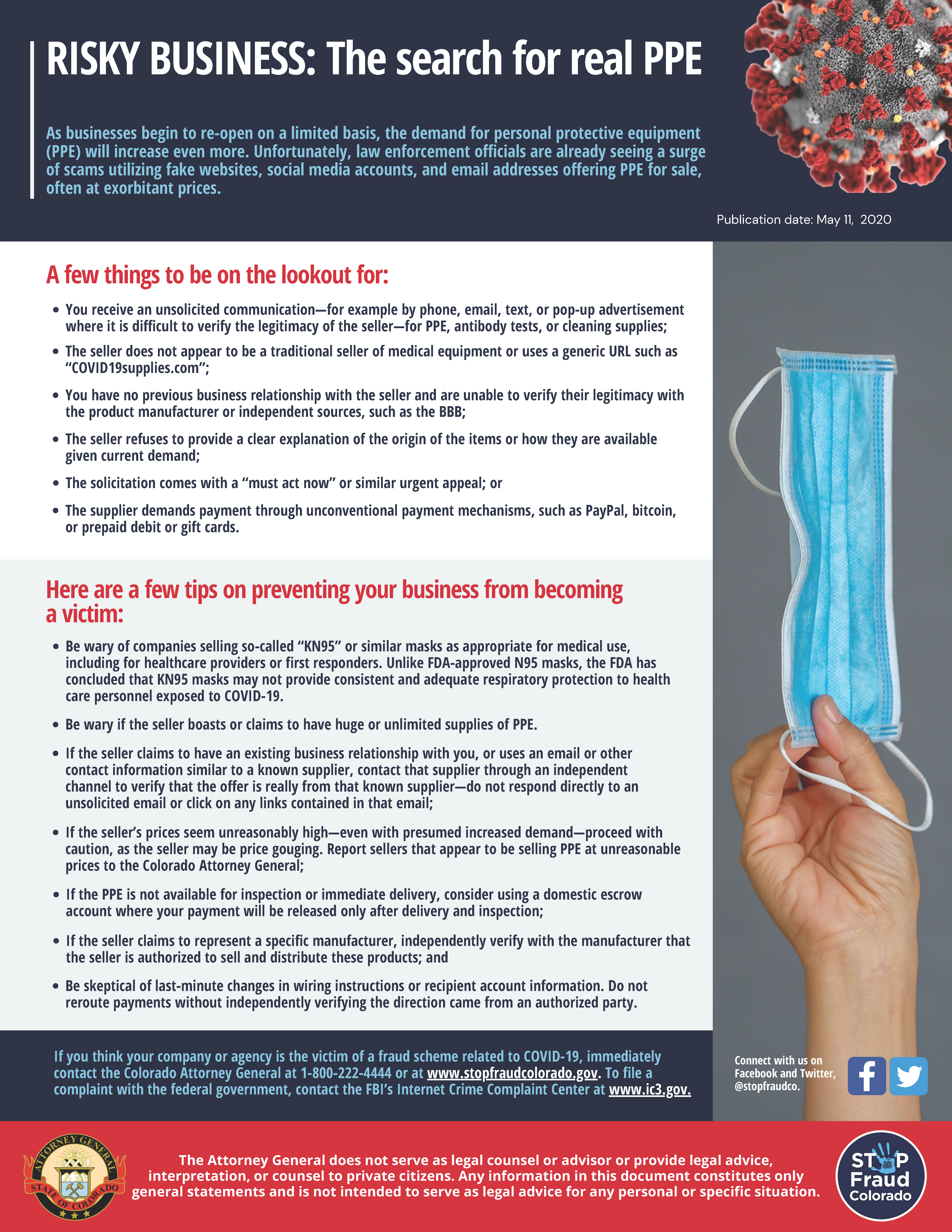 Coronavirus and price gouging in Colorado
The Colorado Attorney General's Office has received numerous complaints about unreasonable increases in the price of essential products and services during the declared COVID-19 state of emergency. As the Attorney General has warned
before
, no one should use this state of emergency as an opportunity to prey on consumers. The Attorney General's office continues to monitor and investigate businesses across the state and online for signs of extreme price gouging schemes.
Consumers who observe price gouging or have fallen victim to such practices should immediately report the seller to Stop Fraud Colorado at 800-222-4444 or
www.StopFraudColorado.gov
.
What is price gouging?
Price gouging occurs when a seller substantially increases the price of a good or service above either (i) the price at which the product or service was sold in the usual course of business prior to the declaration of emergency or (ii) the price at which other reputable sellers offer the same type and quantity of the product or service. The increase in price must be more than is justified in the ordinary course of business and market fluctuations.
What products may be subject to price gouging?
The products subject to price gouging may include essential or basic medical, personal, or food supplies, including hand sanitizers, cleaning and disinfectant products, toilet paper, face masks, bottled water, and other food items.
Is price gouging illegal?
Although Colorado does not have a specific price gouging law, taking advantage of a state of emergency by unreasonably increasing the prices of essential goods and services may constitute unfair and unconscionable business acts and practices under the Colorado Consumer Protection Act.  Under that Act, the Attorney General is authorized to file suit against price gougers and may seek damages, injunctive relief, restraining orders, restitution, and civil penalties.
The Attorney General's Office has been in contact with representatives from Amazon and Facebook to coordinate efforts to address potential price gouging on items such as paper products, cleaning supplies, hand sanitizer and soap, and other goods. The Attorney General's Office, along with other State Attorneys General, have reached out to a number of online platforms regarding price gouging and have requested the platforms' assistance in investigating and prosecuting these practices.
Do all price increases during a state of emergency constitute price gouging?
No. Sellers may have justified reasons for imposing increases on the price of a good or service during this state of emergency based on fluctuations in supply or demand. In determining whether price gouging has occurred, the Colorado Attorney General's Office will consider the following factors:
The price the seller charged for the product or service compared to either (i) the price at which the product or service was sold immediately before or (ii) the price charged by another reputable seller of a comparable product or service;
Additional business costs imposed by the supplier or another party in the supply chain; and
Additional costs of bringing the product to market because of a declared state of emergency.
What can consumers do to protect themselves from price gouging?
Student loan do's and don'ts
On March 26, Colorado Attorney General Phil Weiser signed on to a letter with 26 other state Attorneys General asking the U.S. Department of Education to do more to protect federal student loan borrowers. The recently passed stimulus bill and U.S. Department of Education guidance contain protections for many federal student loan borrowers, such as a waiver of interest rates, suspension of payments, and a halt on all involuntary collection activities such as wage garnishments and federal income tax withholdings until Sept. 30, 2020. Check with the Department and your servicer for the most up-to-date options on how to handle your student loan payments. If you took out a private student loan or if your Federal Family Education Loan Program (FFELP) loan is owned by a private bank, then the recently enacted CARES ACT will not apply to you. However, the Attorney General's office has worked with many student loan servicers to help make sure that Colorado borrowers who need help get relief. Commercially held FFELP and private student loan borrowers in need of assistance should contact their student loan servicer to identify the options that are appropriate to their circumstances. Relief may options include:
Providing a minimum of 90 days of forbearance
Waiving late payment fees
Ensuring that no borrower is subject to negative credit reporting
Ceasing debt collection lawsuits for 90 days
Working with borrower to enroll them in other borrower assistance programs, such as income driven repayment plans.
To determine the types of federal loans you have and who your servicers are, you can visit the Department of Education's National Student Loan Data System (NSLDS) at
nslds.ed.gov
or call the Department of Education's Federal Student Aid Information Center at 1-800-433-3243 or 1-800-730-8913 (TDD). Borrowers with private student loans can check the contact information on their monthly billing statements. Approximately 743,900 Coloradans owe over $26.7 billion in federal student loans. During uncertain economic times, unscrupulous people may try to take advantage of borrowers. The following are some do's and don'ts for student loan borrowers:
Do's
Do reach out to your servicer, if you expect you won't be able to make your student loan payments. Do get information from your servicer or reliable sources such as a governmental agency:
Do your research! Before signing documents or giving money to someone you don't know, make sure the company or person is legitimate. Do check the status of your federal student loans through the
National Student Loan Database System
(NSLDS). Do walk away if someone pressures you to give money before they provide help, demands monthly service fees, or requires you to sign documents without giving you time to review them. Do be cautious before accepting unsolicited offers of help from people or companies you don't know. Do file a complaint with the Colorado Attorney General's office if you find out about a scam.
Don'ts
Don't be fooled by people pretending to be from the federal or state government or your servicer. Only call phone numbers and visit websites you know are correct. Don't give money to people who promise to forward your loan payments to your servicer—they likely will keep your money and leave your bills unpaid. Don't provide anyone with personal information such as your social security number, account numbers, FSA User ID, or passwords. Don't give anyone access to—or help anyone access—your NSLDS account. Don't sign a power of attorney that allows someone you don't know to access your financial or other accounts or to sign documents or take other actions on your behalf. Don't believe people who promise to get your student loans immediately forgiven or canceled. Don't be fooled by something that sounds too good to be true.
Financial tips for the coronavirus pandemic
Loans: 
Consider your options before taking out a loan. For example, try talking with your creditors to negotiate more time to pay bills.  If you do take out a loan, borrow only what you will be able to afford to pay back.  Shop around for the lowest interest rate.  Carefully review whether add-on products, such as insurance, are worth the cost.
If you are considering taking out a loan, be cautious when seeking loans from companies seen advertised on TV or online. These companies may be owned or affiliated with federally recognized Indian Tribes, which are not licensed or regulated by the state. While some of these advertisements or websites do include notice of Tribal affiliation, this is not always the case.
Colorado has found instances in which these companies have charged significantly more than the legal interest rate in Colorado and executed wage garnishments without a court order. 
Here
 is a list of lenders licensed and regulated by Department of Law.
Auto loans:
If you are having trouble 
paying your auto loan payments
 your lender may have options that will help. You may want to consider requesting changing the date of your payment, requesting a payment plan, and asking for a payment extension. Colorado law provides borrower protections, including a notice and period of time to cure default before repossession and limits on late fees.
Check your credit reports:
If you're working with lenders on payment assistance programs or forbearance, routinely 
check your credit reports
 to make sure the statements are accurate and that any delinquencies have not been improperly reported. Your credit reports and scores play an important role in your future financial opportunities.
Debt Collection:
If you currently have a debt in collections, you can work with collectors to identify a realistic repayment plan. The Consumer Financial Protection Bureau offers a number of 
resources for contacting and negotiating with debt collection companies
.
Charitable Donations:
  Do your 
homework
 when it comes to donations, whether through 
charities
 or crowdfunding sites. Don't let anyone rush you into making a donation. If someone wants donations in cash, by gift card, or by wiring money, don't do it.
Investment scams:
  Be alert to "investment opportunities." The 
U.S. Securities and Exchange Commission
 (SEC) is 
warning
 people about online promotions, including on social media, claiming that the products or services of publicly-traded companies can prevent, detect, or cure coronavirus and that the stock of these companies will dramatically increase in value as a result.
Consumer refunds and credits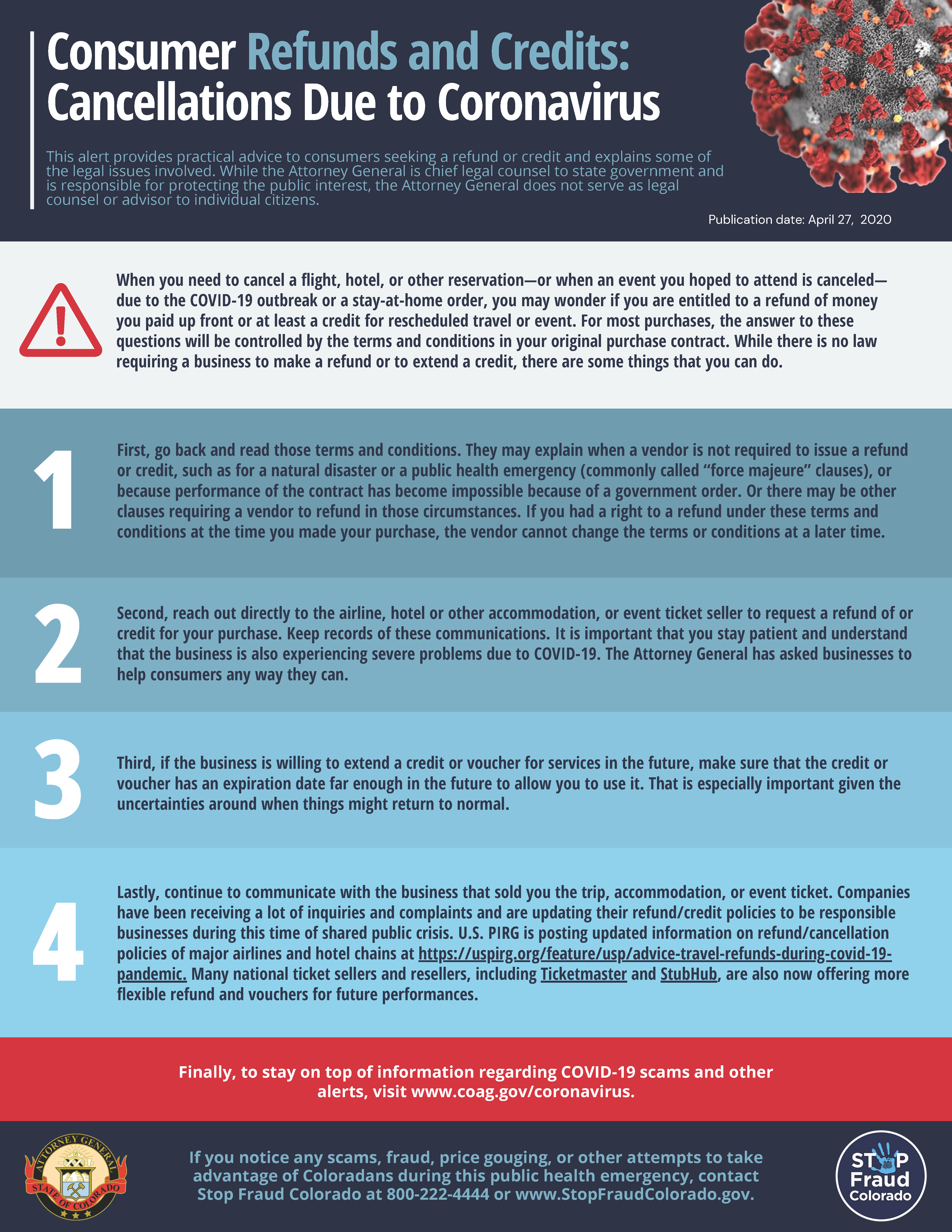 General information and resources
What the Department of Law is doing to respond to the coronavirus
Attorney General Phil Weiser releases top consumer complaints related to coronavirus
March 31, 2020 (DENVER, Colo.)— Attorney General Phil Weiser today released preliminary data on the top consumer complaints reported to the Colorado Department of Law related to the coronavirus pandemic.

In March, consumers submitted approximately 300 coronavirus-related complaints, according to preliminary data, largely centered on pricing (37%) and refund (45%) issues. Other complaints include robocalls and texts offering either false deals with merchants, stay-at-home work schemes, or other inducements to get people to click on fake links. These links can then infect their devices or steal people's personal information.
Attorney General Phil Weiser warns about coronavirus relief check scammers
March 30, 2020 (DENVER, Colo.)— As the coronavirus public health crisis takes a growing toll on Coloradans, Colorado Attorney General Phil Weiser today issued a consumer advisory warning that scammers are already trying to take advantage of Coloradans by using the checks the federal government is scheduled to send many Coloradans as a part of the coronavirus stimulus package as bait to encourage Coloradans to share bank account numbers or other sensitive personal information.
Attorney General Phil Weiser says speedy trial deadlines should be extended to keep Coloradans safe from COVID-19
March 23, 2020 — "I urge Colorado's courts to recognize that, with the need to protect all trial participants from the deadly COVID-19 virus, trials should be rescheduled, and the speedy trial deadline should be recalculated under both of these statutory exceptions."
Attorney General Phil Weiser calls for a statewide pause on eviction proceedings during the COVID-19 state of emergency
March 22, 2020 — "So far, courts in Denver, Mesa County, Weld County, and Boulder County, among others, have taken this important step. I urge all Colorado courts to join in recognizing the urgent need to pause all eviction orders during this emergency. Nobody should be without their home as we all grapple with this crisis."
State law enforcement and public health officials urge Coloradans to follow state public health order during coronavirus emergency
March 20, 2020 — Officials from the Attorney General's Office, the Colorado Department of Public Health and Environment (CDPHE), and the Colorado Department of Public Safety are urging Colorado residents to exercise civic and personal responsibility and voluntarily comply with the public health order. Leaders from these state agencies, however, said they will use their authority under state law to enforce the order when necessary and appropriate.
Attorney General Phil Weiser urges student loan servicers and other creditors to exercise restraint and hold off debt collection efforts
March 18, 2020 — "Today, alongside House Majority Leader Alec Garnett and Rep. Leslie Herod, I urge student loan servicers, creditors, and debt collectors to refrain from mandatory debt collection efforts from those who are unable to pay because of their financial circumstance."
Attorney General Phil Weiser urges businesses to refund or credit cancellations due to coronavirus
March 16, 2020 — "To do their part, businesses can act responsibly by providing refunds or credits to consumers who will not be able to use their services, whether hotel reservations, airline travel, or other areas where accommodations can be made. I commend the many businesses that have already taken the lead by honoring the need to curtail travel and large events. For those who have yet to do so, I would strongly encourage them to act quickly.
Attorney General Phil Weiser warns Coloradans to be on the lookout for Coronavirus scams
March 12, 2020 — "Scammers take advantage of natural disasters and emergencies," said Weiser. "By learning how to avoid scams related to Coronavirus, we can work together to ensure no one in our state is taken in by these malicious attempts to defraud Colorado consumers during this public health emergency."
Sign up for COVID-19 updates
Click here to sign up for COVID-19 updates, fraud alerts, financial tips, state efforts, and a variety of other helpful tips and resources from the Colorado Attorney General's Office, Office of Community Engagement.