Attorney General Phil Weiser is committed to defending Colorado student loan borrowers and holding student loan servicers and institutions accountable for deceiving and misleading students. Since 2019, Attorney General Weiser's office has secured over $320 million in refunds or debt cancellations for over 24,000 Coloradans.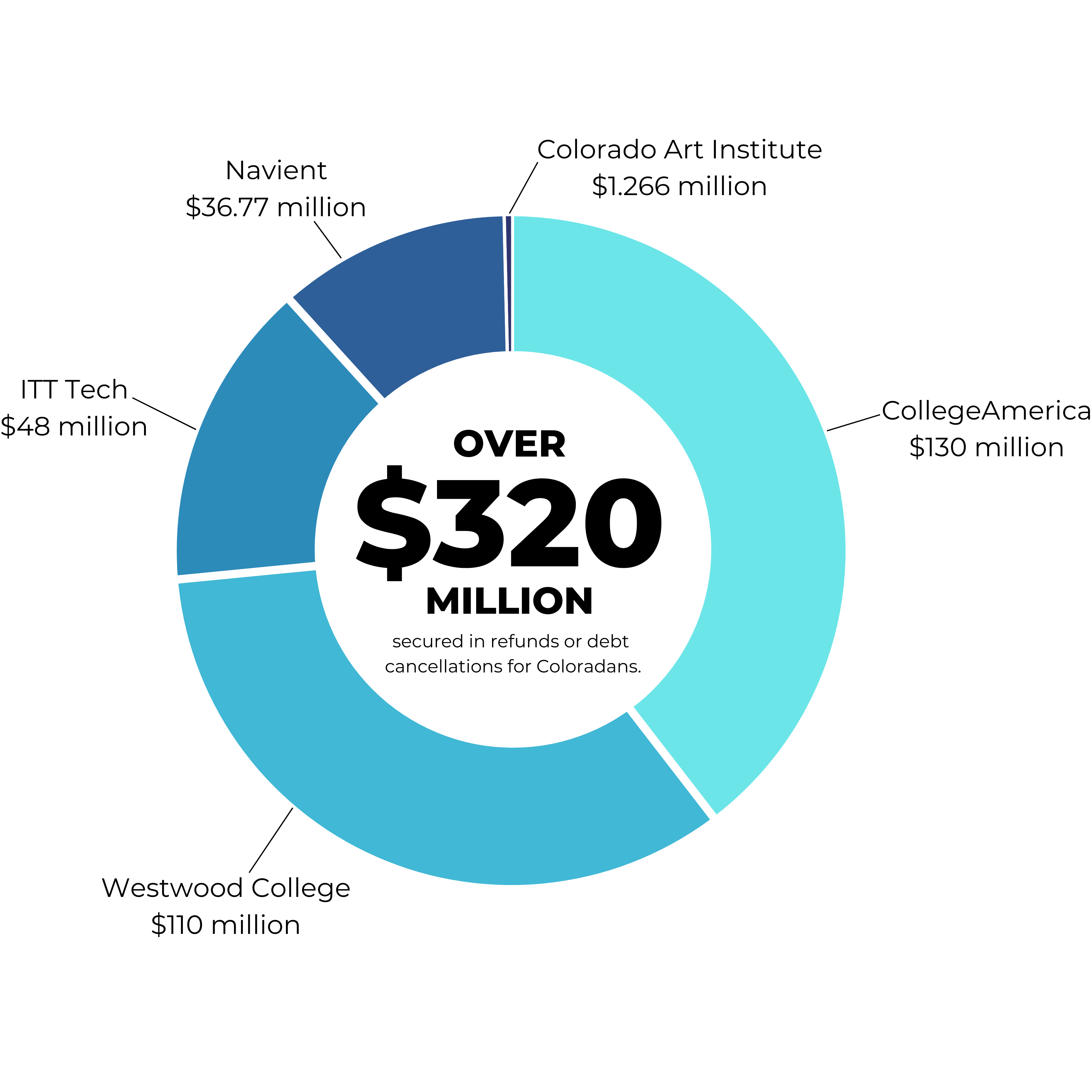 How did the Attorney General's Office secure student loan forgiveness?
ITT Technical Institute
In June 2019 the Attorney General's Office secured $1,668,772 in debt relief for 169 Coloradans who attended ITT Tech. The school knowingly offered students temporary credits to cover tuition that were extremely difficult to repay by their due date. To repay the credits, ITT Tech then pressured and coerced students into accepting loans from a private lender, the Student CU Connect CUSO, LLC, whose interest rates were far higher than federal student loans. The settlement with ITT Tech was part of a nationwide settlement involving 43 total stats and more than 18,000 former ITT Tech students. For more on this settlement, click here.
In August of 2022, the U.S. Department of Education announced that $3.9 billion in student loans forgiveness for students who attended the now defunct ITT Tech, including nearly $46 million for Colorado borrowers. Together with 23 other states and the District of Colombia, Attorney General Weiser led this movement after filing a borrower defense application last year asking the department to forgive the loans of students who were misled by ITT Tech.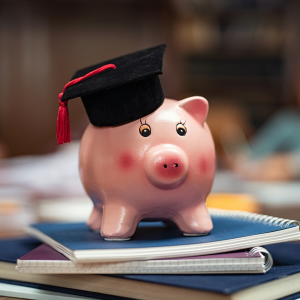 Colorado Art Institute
In August 2020, the Attorney General's Office secured relief for more Colorado borrowers. The Colorado Art Institute defrauded its students when the school's corporate owner – Dream Center Education Holdings – failed to inform them that the school had lost its accreditation from the Higher Learning Center. An investigation by the Attorney General's Office helped uncover the deception, and as part of the settlement, over 500 students around the country who were attending the Art Institute at the time received debt cancellation and refunds totaling more than $1.2 million. For further details on this settlement, click here.
Westwood College
In 2021, the Attorney General's Office found that Westwood College misrepresented students' abilities to transfer their credits at all its campuses in the United States. Following an investigation by the U.S. Department of Education, the federal student loans of more than 1,600 Westwood College students were forgiven, including 115 Colorado borrowers. For more on our work for students from Westwood College, click here.
Navient
In January 2022, Attorney General Weiser announced a settlement with Navient, one of the nation's largest student loan servicers, for over $35 million in debt cancellations to more than 1,300 Colorado borrowers and restitution payments to nearly 7,000 Coloradans. This settlement was part of a nationwide, $1.85 billion settlement joined by a coalition of 39 attorneys general that resolved claims that Navient steered struggling student loan borrowers into costly long-term forbearance rather than lead them towards more affordable plans. For more on this settlement, click here.
CollegeAmerica
In July 2023, the Department of Education announced a settlement with CollegeAmerica for $130 million in automatic loan forgiveness for 7,400 students who attended Colorado-based locations of CollegeAmerica between January 1, 2006 and July 1, 2020. This settlement came after CollegeAmerica's parent company, the Center for Excellence in Higher Education (CEHE), was found to be making widespread misrepresentations about the salaries and employment rates of its graduates, the programs it offered, and the terms of a private loan product it offered. For more on this settlement, click here.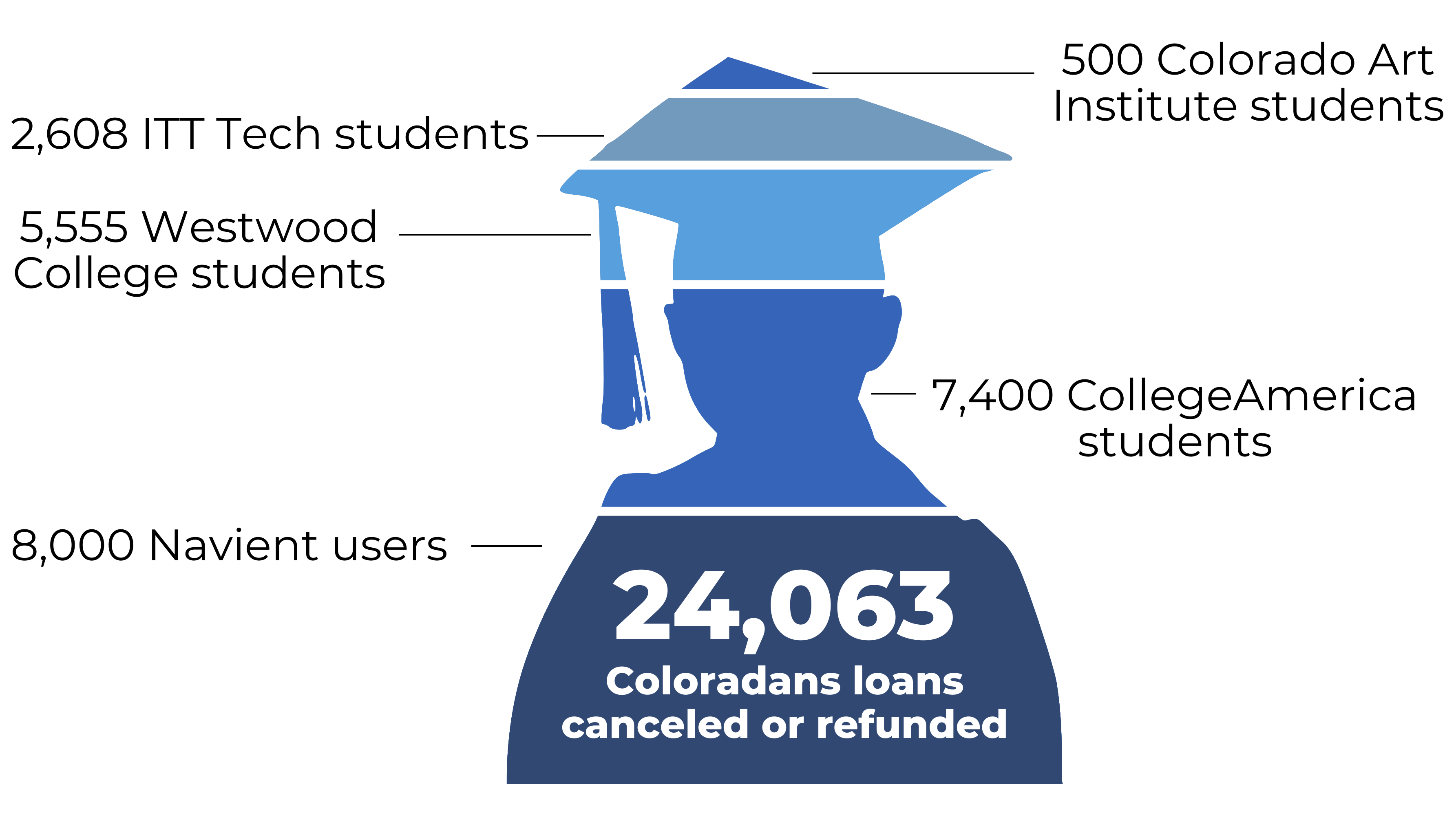 Our student loans ombudsperson
As part of our mission to defend student borrowers here in Colorado, the Colorado Legislature created a new position in the Department of Law called the student loan ombudsperson. Their role is to advocate for borrowers having problems with their student loans, investigate complaints, and provide information and education on student loan issues. Any Coloradan, with federal or private student loans, may file a complaint. Please view this document for more information about the ombudsperson.
Public Service Loan Forgiveness (PSLF)
The Public Service Loan Forgiveness (PSLF) program promises federal student loan forgiveness to qualifying, federal student loan borrowers who work in public service for at least 10 years. Under the program, any remaining balance on your federal direct loans or federal direct consolidation loans are forgiven after you make 120 qualifying monthly payments under a qualifying repayment plan, while working full-time for a qualifying public service employer. For more information about the PSLF program, click here.
Borrower Defense Applications (BDA's)
Borrower Defense to Repayment (BD) is a federal regulation that allows students who were defrauded by their school in connection with taking out federal student loans to seek discharge of those loans. In other words, if your school misled you or engaged in other misconduct, you may be eligible for relief from repaying your loans. Borrower Defense to Repayment is offered through the U.S. Department of Education.
To seek forgiveness of your federal student loans through BD you may apply to the U.S. Department of Education and the Department will determine if your loans are eligible for discharge. The Student Loan Ombudsperson program can assist you in understanding the process and provide information on what you need to do to apply for discharge. In addition, the Attorney General may file a borrower defense group application with the Department to seek forgiveness on behalf on a group of borrowers.